CargoLink - How does it work? #
As soon as you set a document ready for sharing, the recipient will get a unique weblink by e-mail and can start downloading the data directly with the browser without the need to install additional software.
Additionally, the transfer can be secured by a one-time PIN which is either delivered to the recipient by SMS or by other means of communication. You will be notified once the recipient initiates the transfer and verify in the user interface the details of the download.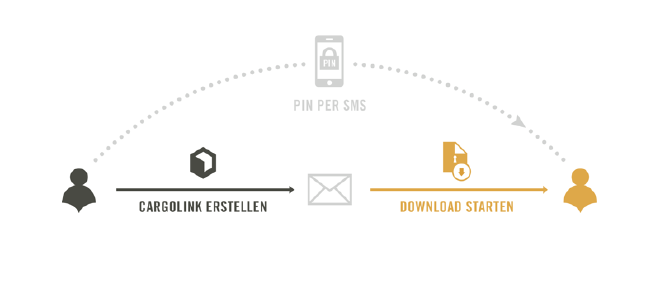 More Options #
Restrict the number of downloads
Set an expiration date for the CargoLink (for example two days from now)
Schedule a link to be activated in the future
Set individual PINs for multiple recipients
Set PIN delivery methods (i.e. via SMS or email)
Let the document be deleted automatically on the CargoServer once the transfer is completed
Allow the recipient to upload files
Full journal of transfer available as PDF document